Airlangga: G20 must bridge the interests of both developed and emerging countries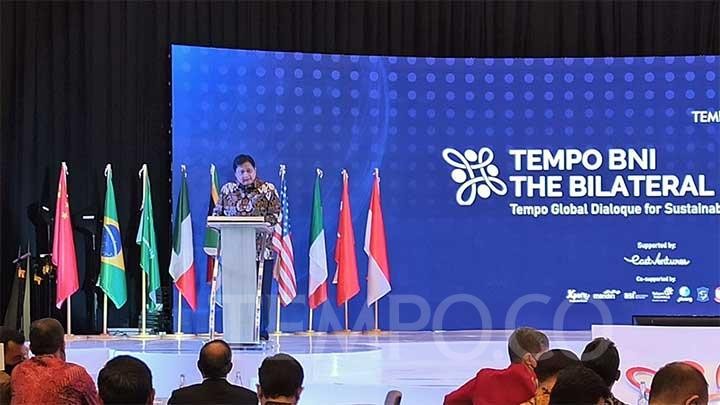 Source: Tempo.co
Link to original article HERE
Indonesia in its presidency of the G20, as well as its member countries, will promote the economic recovery of the world in the post-pandemic era and make the global economy stronger and more resilient, Coordinating Minister of Economic Affairs Airlangga Hartarto said.
Furthermore, the form of economic recovery to be promoted was one that would be ready to face any form of crisis or challenges of the future. This includes any potential pandemics.
"The G20 must be able to bridge the interests of developed countries with the needs of emerging economies," Mr. Hartarto said at the Tempo BNI Bilateral Forum at The Langham in Jakarta on Thursday, May 12, 2022. He said national interest remains the Indonesian government's main concern, in which the country aims to recover into a tougher, more inclusive, and sustainable economy.
There is currently a significant polarization – the worst of its kind since World War II and the Cold War – caused by the military conflict between Russia and Ukraine, he said. The intense geopolitical tension that is currently happening diverts the world's attention from what should be a concerted effort towards economic recovery. The ongoing war, he said, could trigger even worse global economic disruptions, particularly in the fields of energy and food supply.
The ongoing military aggression has caused economic sanctions, sparked high inflation, caused financial, food and energy crises that could lead to a depreciated global economic growth.
Airlangga claimed that the Indonesian government was already moving on the right track in facing this challenge. He said the country's domestic policies in handling the COVID-19 pandemic has proven to be appropriate in pushing the domestic economy forward in the last couple of quarters, as evidenced by the robust economic activity that occured during the Islamic holy month Ramadhan and the following exodus event of the Islamic holiday Eid Al-Fitr.
Indonesia, Airlangga said, had also continued on with its national economic recovery program of supporting Micro-Small-and-Medium Enterprises (MSMEs). Furthermore, the policies in place continue to promote inclusivity in building tougher Indonesian citizens in the post-pandemic era. "We continue to renew our commitment to put in place social protection programs," he said.