Indonesian Govt. Supports Collaboration on Energy Transition between Pertamina and International Companies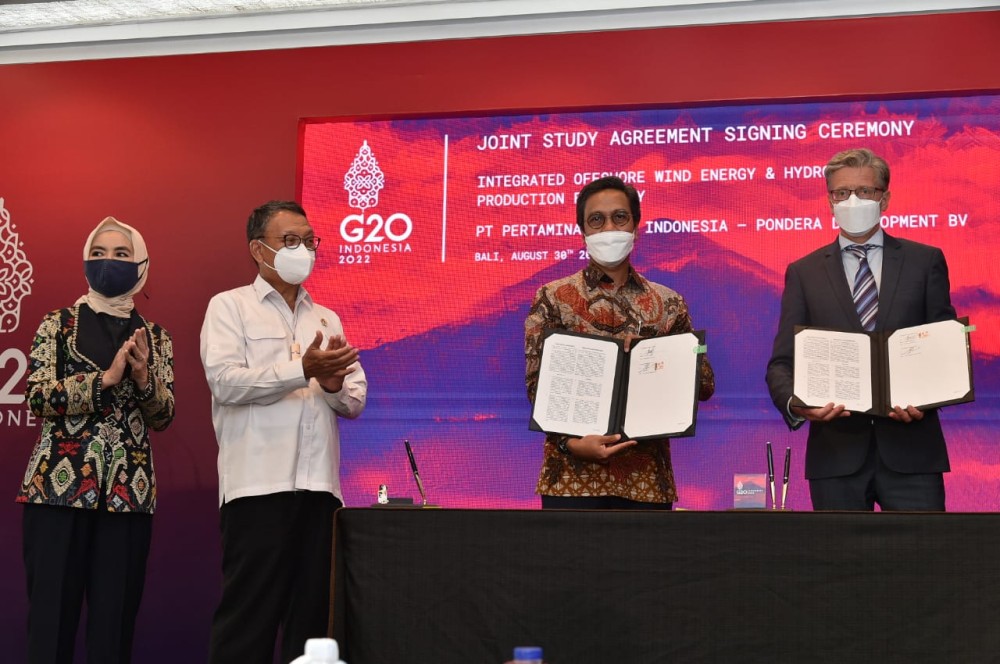 Image Source: Ministry of Energy and Natural Resources of the Republic of Indonesia
Source: Ministry of Energy and Natural Resources of the Republic of Indonesia
Link to original article HERE
Minister of Energy and Mineral Resources (ESDM) Arifin Tasrif witnessed the signing of several cooperations between PT Pertamina (Persero) and international companies in the energy transition sector. This collaboration is carried out to achieve the country's emission reduction target of up to 29 percent by 2030.
Mr. Tasrif appreciated the steps taken by Pertamina and its collaborating partners to initiate the use of energy sources to increase added value.
"We may start small, but we have to grow big in order to create economic value and benefit the community," said Mr. Tasrif at the Signing of the Cooperation Project for Energy Transition between PT Pertamina (Persero) and the international companies, which was held in parallel with the Energy Transitions Working Group (ETWG) event of the G20 Indonesia Presidency, in Nusa Dua, Bali, on Tuesday (30/8).
In accordance with the 2060 sustainability target, Mr. Tasrif said the government must meet the electricity demand of the Indonesian people, which exceed 500 gigawatts, by relying on energy sources available throughout the country, such as solar, water, geothermal, ocean currents, bioenergy, and wind.
"Therefore, we need to cooperate and collaborate with various parties to create businesses and improve our quality of life in the future. To achieve the 2060 target, we have to do a lot of things, invest a lot, rely on available technology, and, most importantly, provide our community access to energy," he added.
On that occasion, Pertamina President Director Nicke Widyawati said that this energy transition cooperation was carried out in response to the high demand for renewable energy and low-carbon fuels needed to reduce greenhouse gas emissions from fossil fuels.
Ms. Widyawati said that Pertamina contributes by supporting the government's commitment to reduce GHG emissions in accordance with the Paris Agreement by collaborating with partner countries within the G20.
"This is a collaboration that involves businesses and government stakeholders, and most importantly it is a collaboration between people that aims to contribute real and tangible action in achieving the consensus of providing equitable access to sustainable energy and in protecting our climate for future generations," explained Ms. Widyawati.
Mr. Tasrif expressed hope that the cooperation carried out by Pertamina and its partners could produce tangible results. "We expect that there will be a concrete follow-up to this MoU," he said.
To note, one of the collaborations signed on this occasion was a Memorandum of Understanding (MoU) between PT Pertamina (Persero) and PT Astra Agro Lestari Tbk. regarding 'Cooperation in Potential Business Relations and Data Exchange for the Development of Low Emission Projects'. This collaboration aims to develop low-emission projects by utilizing palm oil waste (empty fruit bunch and palm oil mill effluent) to produce bioethanol and biomethane products that could be used as substitutes for fossil fuels and support national energy independence.
In addition, there was also the signing of the Green Industrial Cluster Development cooperation agreement in Jababeka between Pertamina Power New and Renewable Energy (NRE) – a subsidiary of Pertamina Power Indonesia (PPI) – and PT Jababeka Infrastruktur through the use of solar panels in Jababeka office buildings.
Another collaboration is the Joint Study Agreement (JSA) between PPI and the Dutch company, Pondera, on an Integrated Offshore Wind Energy and Hydrogen Production Facility. This JSA is a follow-up to the MoU between the two parties on April 21, 2022, regarding the development of Wind Power Plants (PLTB).
Finally, there was a JSA signing between Pertamina (Persero), PEP, and Japan Oil, Gas and Metals National Corporation (JOGMEC) on CO2 Injection for Enhanced Oil Recovery (CCUS-EOR) Project in Jatibarang Field. This collaboration will study the implementation of the CO2 injections project at the initial stage in further supporting the full field scale deployment of CO2-EOR as a method to increase oil production and reduce carbon dioxide emissions in the Jatibarang Field, West Java. (DKD)