Ministry of Industry launches Indonesia Manufacturing Center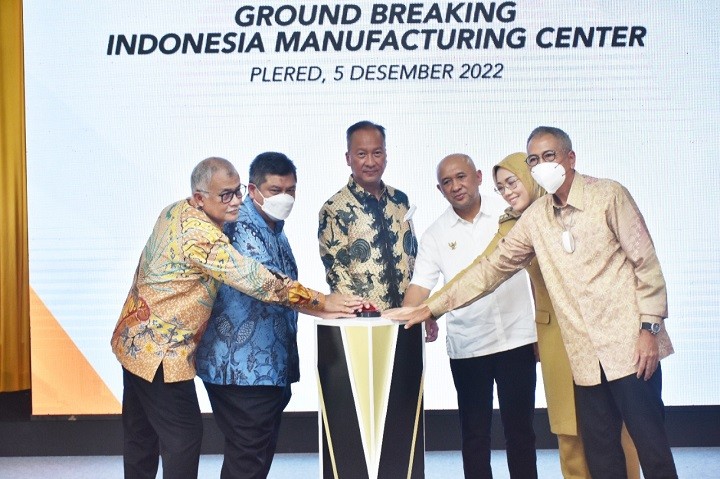 Source: Minsitry of Industry of the Republic of Indonesia
Link to original article HERE
The Ministry of Industry held a groundbreaking of the Indonesia Manufacturing Center (IMC) in Purwakarta, West Java, on Monday, December 5, 2022.
Launched by Minister of Industry Agus Gumiwang Kartasasmita, the IMC aims to nurture mastery of industrial technologies – in the effort to create an independent national industry and improve the country's competitiveness – by making industrial products and materials that could replace imported goods.
"In order to develop and accelerate our master of industrial technologies, we see the need for an effective collaboration with stakeholders who are playing important roles in the field of industrial technology development, namely universities, research institutions, businesses, the public and communities, as well as the government, or what is also referred to as a penta-helix concept," Mr. Agus said during the groundbreaking.
The IMC, he added, could serve as a platform for an effective 'penta-helix' collaboration in its role as an institution.
Funded by the state budget, the IMC would be built on 11 hectares of land and would be completed in two phases – the first phase being the development of a management building and a teaching industry building.
Mr. Agus hoped that the second development phase could be done under mutually beneficial cooperation schemes between the government and the private sector, or with international research institutions.
"A number of parties from countries that already have significantly advanced industrial capacities, such as South Korea and Japan, would also assist in the development of clusters within the IMC. As we all know, all countries with advanced manufacturing industries have manufacturing centers," Mr. Agus said.
Alongside the construction of the IMC, the Ministry of Industry was also preparing a digital platform for the collecting and analyzing of data for the decision-making process in regard to the IMC's service. The digital platform, which would also act as a communication and transaction platform between the IMC and 'centers of excellence' – namely universities, research institutions, and companies – was slated to be operational in 2023.
Secretary General at the Ministry of Industry Dody Widodo said the IMC was targeted to be operational in 2024 and would provide the domestic manufacturing sectors with services on research and development, technology transfer, and industrial talent development, while also serving as a networking space for stakeholders.