This Week's Headlines (November 4 - 10, 2023)
10 Nov 2023
Bilateral Cooperation
Business News
Economy
Energy
Energy Transition
This Week's Headlines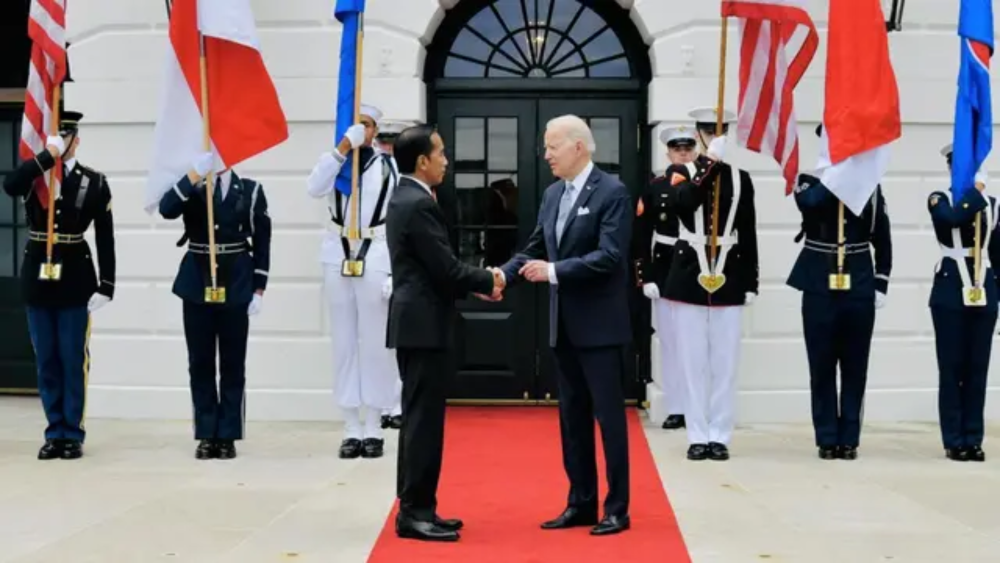 Indonesia inaugurates $108 million floating solar plant
Indonesia's President Joko Widodo on Wednesday inaugurated a 192 megawatt peak (MWp) floating solar power plant on a reservoir in West Java province as part of a drive to increase renewable energy sources and switch away from coal.
The 1.7 trillion rupiah ($108.70 million) project was developed by PLN Nusantara Power, a unit of Indonesia's state utility company Perusahaan Listrik Negara (PLN) and United Arab Emirates renewable energy company Masdar, a unit of Mubadala Investment Company.
"I spoke with Minister Thani from the UAE that this would be expanded to around 500 MWp and we hope more renewable energy could be developed in Indonesia," the president popularly known as Jokowi told reporters, referring to UAE Minister of Foreign Trade Thani bin Ahmed Al Zeyoudi.
The solar power infrastructure was built on Cirata reservoir, 108 kilometers (67.11 miles) southeast of Indonesia capital Jakarta. A hydropower plant at the dam has an installed capacity of about 1,008 MW.
The plant is the third largest floating solar plant in the world and could be expanded up to 1,000 MWp, PLN chief executive Darmawan Prasodjo said, as the 13 arrays installed so far only occupied 4% of the reservoir's surface.
Regulations permit up to 20% of the reservoir's area to be utilized by the solar plant, Darmawan said, adding that discussions were underway with Mubadala for the next phase of the expansion.
"This is just the beginning. The president instructed us to maintain the momentum so that renewable energy development could be escalated," Darmawan said at the same event.
Renewable energy accounted for 12.3% of Indonesia's energy mix in 2022, and Jokowi said that the target of 23% by 2025 would probably be missed.
"It is not easy because there was COVID-19 pandemic, we could not reach it. But our commitment is to keep moving to achieve the target we have promised," Jokowi said.
($1 = 15,640.0000 rupiah)
Source: Reuters
---
Jokowi to Meet U.S. President Joe Biden at White House Next Monday
Indonesian President Joko "Jokowi" Widodo is expected to meet U.S. President Joe Biden on November 13, at the White House, according to Reuters on Tuesday, Nov. 7.
Jokowi was invited to the White House last September 9, for a bilateral meeting after the two leaders met on the sidelines of the G20 Summit in India. "President Biden looks forward to welcoming President Jokowi to Washington for a bilateral meeting at the White House this November," the White House stated.
After the meeting, Jokowi is scheduled to attend the Asia Pacific Economic Cooperation (APEC) Leaders' Week 2023 in San Fransisco from November 11 to 17, 2023.
Jokowi and Biden are expected to discuss various matters from trade relations to security issues, said Sung Yong Kim, US Ambassador to Indonesia in an exclusive interview with Tempo on Monday.
"We have achieved a number of critical goals between both countries in the past few years. So, I know both leaders want to review what we have done in the past but are also looking forward to other endeavors to explore together," he said.
Kim stated that in terms of economic relations, bilateral trade between Indonesia and the US has grown. According to the record of investment realization from January to June 2023, announced by Investment Minister Bahlil Lahadalia, foreign investment from the U.S. reached US$1.6 billion.
"So, I know that our leaders are highly interested in the strength of economic partnership and I'm sure they will discuss how to further cooperate to boost our trade relations," Kim added. Security matter, he went on, is also vital. "We have a strong military relation between the US and Indonesia," he remarked.
Garuda Shield was one of the examples, the two-week joint training between the U.S. Army and the Indonesian Army starting from 2007 to 2022, which involved 14 other countries and was dubbed Super Garuda Shield.
75 Years of Diplomatic Relations
On December 28, 2024, Indonesia and the US will celebrate their 75th year of diplomatic relations. Relating to this fact, Kim said that both governments will increase their relationship with comprehensive strategic partnerships.
"What we have now is a strategic partnership, which will be upgraded into a comprehensive strategic partnership. Both governments work very hard to create an action plan which will be relayed by both our leaders, and hopefully will be agreed by them upon their meeting in Washington," Kim said.
According to Kim, Indonesia and the U.S. have many other potentials for a partnership, namely in the education, culture, sports, and health sectors.
Meanwhile, this year's APEC will hold the theme of "Creating a Resilient and Sustainable Future for All". As the host, the US will focus on supply chain issues, digital trade, connectivity, opportunities for small and medium enterprises, climate change, as well as a sustainable environment.
"I think President Biden is looking forward to hosting his peers and state members of APEC, including President Jokowi," Kim concluded.
Source: Tempo.co
---
Consumer confidence rebounds as retail sales inch up
A nationwide survey by Bank Indonesia (BI) has found that the consumer confidence index (CCI) strengthened in October after dipping in the previous month.
The index reading was 124.3 last month, higher than the 121.7 logged in September, according to the survey published on Wednesday.
BI spokesperson Nita A. Muelgini wrote in a statement that the confidence increase was the result of improvements in both consumers' perception of the economy and their expectations about the economic situation over the next six months.
Consumer confidence in Indonesia has consistently clocked above 100, the figure that separates overall consumer optimism from pessimism, which in turn affects consumer spending.
The Finance Ministry was confident that the high consumer confidence would translate into increased consumption, which prompted the ministry to project annual economic growth of above 5 percent in the third quarter.
However, Statistics Indonesia (BPS) data showed on Monday that the country only booked 4.94 percent year-on-year (yoy) GDP growth in the third quarter.
According to BPS, household consumption grew 5.06 percent yoy in the third quarter, behind the 5.39 percent yoy in the same period last year.
As a result, household spending accounted for just 2.63 percentage points of the overall third-quarter growth of 4.94 percent. Such spending made up 2.81 percentage points of GDP growth in the same period last year.
"Consumer spending is lower than what we expected. We have high consumer confidence, but that did not translate into consumption to the degree we had hoped," said Finance Minister Sri Mulyani Indrawati at a press briefing on Monday.
Pinpointing why that was the case, she said, required further investigation, adding that it could be "psychological because of El Niño and increasing rice prices".
Preliminary data on retail sales, which BI published on Thursday, showed a marginal increase in October, up 1.8 percent yoy, according to a separate report. That marks an improvement from the 1.5 percent yoy growth in September.
BI spokesperson Erwin Haryono wrote in a statement that the "increasing performance" was attributable to the commodity groups of other household goods, spare parts and accessories, as well as food, beverages and tobacco.
This was in line with increasing demand ahead of the Christmas and New Year holiday.
The real sales index for October was up by 1.5 percent yoy by virtue of the clothing subgroup, spare parts and accessories as well as vehicle fuels.
In monthly terms, however, the index contracted by 1.5 percent, a change attributable to decreasing sales of the same groups and subgroup.
Source: The Jakarta Post