Indonesia, Finland Discuss Cooperation Opportunities for IKN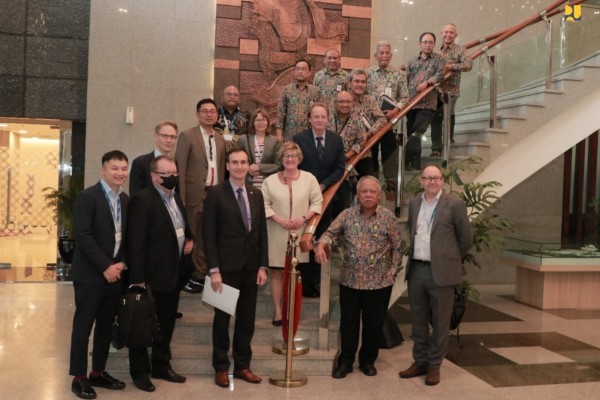 Image source: Ministry of Public Works and Public Housing of the Republic of Indonesia
Source: Ministry of Public Works and Public Housing of the Republic of Indonesia
Link to original article HERE
Minister of Public Works and Public Housing (PUPR) Basuki Hadimuljono held a bilateral meeting with Deputy Minister of Foreign Affairs for International Trade of the Finnish Ministry of Foreign Affairs Nina Vaskunlahti and Finnish Ambassador to Indonesia Pekka Kaihilahti, in Jakarta, on Wednesday, November 23, 2022.
Mr. Hadimuljono said the meeting between the two countries focused on the development of the new Indonesian capital city (IKN) in the field of wastewater management and smart cities.
"After this meeting, the Director General of Infrastructure Financing for the Public Works and Housing will follow up to determine the agreed cooperation scheme, which then will be technically handled by each Director General according to their respective fields," said Mr Basuki.
He said the PUPR Ministry was open to establishing cooperation in developing IKN that prioritizes new technological innovations, especially those that support environmental sustainability.
"Furthermore, as per the directives from President Joko Widodo, every potential foreign investor is required to have a branch office and a fabrication center in Indonesia. As an example, the Indonesian Government has already prepared land in the Batang Integrated Industrial Area (KIT). Investors only need to bring the technology and open a factory," he said.
Additionally, Mr. Basuki said the Indonesian Government also guarantees ease of permit and licensing for the opening of construction businesses in Indonesia. "All permits will be assisted by the Ministry of Investment/Investment Coordinating Board and monitored directly by the President," he said.
Ms. Vaskunlahti said she was very interested in seeing the follow-up to the meeting. "We came together with a number of companies in Finland engaged in construction and technological innovation for environmental sustainability," she said.
Also accompanying Minister Basuki in the bilateral meeting were Inspector General of the Ministry of PUPR T Iskandar, Director General of Water Resources Jarot Widyoko, Director General of Construction Development Yudha Mediawan, Director General of Infrastructure Financing Herry TZ, Expert Staff to the Minister of PUPR in the Field Technology, Industry and Environment Endra S. Atmawidjaja, and Expert Staff to the Minister of Public Works and Housing for Inter-Institutional Relations Asep Arofah Permana.