Indonesia exceeds 2022 investment target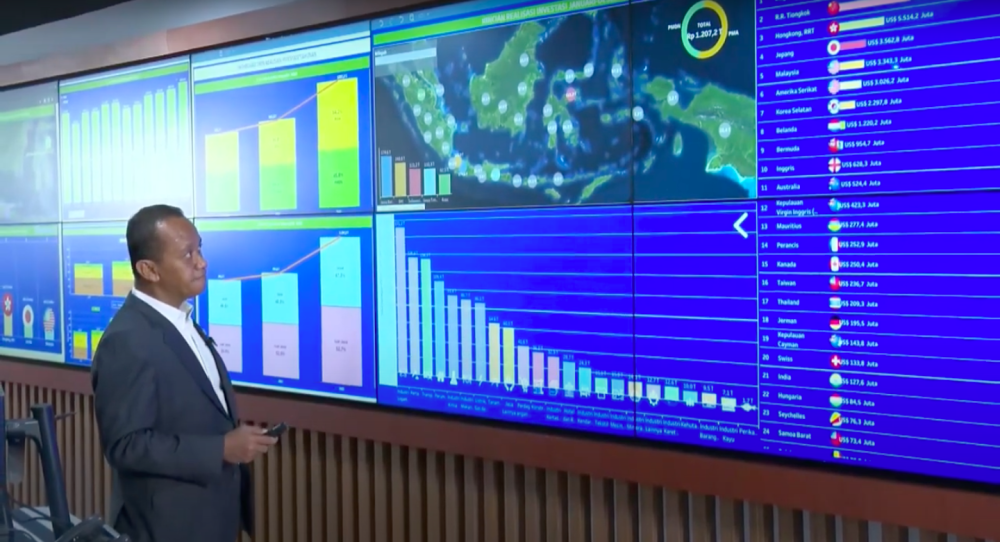 Image source: Screen shot from Ministry of Investment YouTube Channel
The Ministry of Investment (BKPM) recorded a realized investment of Rp 314.8 trillion in the fourth quarter of 2022. This was an increase of 2.3% Quarter on Quarter (QoQ) and 30.3% Year on Year (YoY). The overall investment value throughout 2022, thus, reached Rp 1,207.2 trillion (around US$81 billion), exceeding the 2022 target of Rp 1,200 trillion, BKPM Minister Bahlil Lahadalia said during the press conference. Meanwhile, the total workforce absorbed during the Q4 of 2022 reached 339,879 people.
The sectors with the biggest contributions to this quarterly growth were mining (Rp 39.8 trillion); basic metal industry, metal goods, non-machineries and equipment (Rp 39.4 trillion); transportation, warehouse, and telecommunication (Rp 36.8 trillion); chemical and pharmaceutical industries (Rp 33.5 trillion); and residential, industrial, and office areas (Rp 28.9 trillion).
West Java, DKI Jakarta, Central Sulawesi, East Java, and Riau received the bulk in domestic and foreign investments for the whole year of 2022, receiving Rp 174.6 trillion, Rp 143.0 trillion, Rp 111.2 trillion, Rp 110.3 trillion, and Rp 82.5 trillion, respectively.
Foreign Investment Soars
Quarterly foreign investment rose a whopping 43.3% in the fourth quarter of 2022, up to Rp 175.2 trillion from Rp 122.3 trillion in the same period of the previous year. Highlighting the trend in Q4 2022 was the increase in investment from China, which took over Singapore as the largest source of foreign investments in the last five years, followed by Hong Kong, Malaysia, and the United States. On an annual basis, Singapore still ranks the highest among foreign investment-contributing countries with $13.3 billion.
List of top five countries of origin for foreign investment (QoQ and YoY)
Rank

Q4

2022

Country

Value

Country

Value

1

China

$3.0 billion

Singapore

$13.3 billion

2

Singapore

$2.7 billion

China

$8.2 billion

3

Hong Kong

$1.6 billion

Hong Kong

$5.5 billion

4

Malaysia

$1.1 billion

Japan

$3.6 billion

5

United States

$0.9 billion

Malaysia

$3.3 billion
When asked about upcoming projects in 2023, Mr. Lahadalia expects a $2.6 billion investment from the German BASF and French Eramet SA to build an ecosystem of EV batteries in North Maluku to be secured this quarter. This would be a good start to achieving the investment target in 2023, which amounts to Rp 1,400 trillion.